There is a lot of effort that goes into what some might call a "simple" barbecue. You have to plan, shop, prep, cook, and clean up, and in these roasting summer months in Mallorca, perhaps it's not so appealing… But if you are determined to do it all then here are our hints and tips to ensure barbecue perfection. At Delicioso we have prepared hundreds of barbecues for thousands of guests at weddings, villa catering and private parties in Mallorca over the years, so we think we have earned the right to call ourselves barbecue experts so we are happy to share our knowledge with you.
GRILLING DO'S
Get everything ready before cooking
Brush your grill with olive oil to prevent food sticking
Make sure the meat is at room temperature before cooking – you can take it out of the fridge an hour before
Let the meat rest for about 5 minutes before cutting into it; it keeps the juices in
For extra flavour, baste meat with the leftover marinade while it's on the grill
Throw wood chips onto the coals for smokiness
Have a bin easily accessible
Make sure you have some cold drinks nearby!
GRILLING DON'TS
Keep the juices in the meat – don't prod and poke it too much whilst cooking
Time is important! Don't rush cooking the meat – the longer it cooks for the better it will taste
Do not cut the meat open to see if it is cooked – it will dry out
Make sure you keep cooked food and raw food completely separate!
Keep children and animals protected – don't let them too close to the barbecue
Don't skewer meats together that cook at different paces
Don't press down on a burger whilst it is cooking on the grill
If you'd like to try one of our recipes then throw this together and try it out.

DELICIOSO BEEF BURGER RECIPE
Good quality twice ground beef mince
Very finely diced onion
Dijon Mustard
Dash of Worcestershire sauce
Chopped fresh parsley
Freshly ground black pepper
Generous pinch of sea salt
Egg yolk to bind
MIx it all with love, chill, divide and shape into patties and chill again until the BBQ is ready to go.
Another option is to marinade your meat or veggies with a combination of these:
Soy sauce: adds that bit of salt and brings out tons of flavour.
Lemon juice: adds acidity to tenderise the meat.
Olive oil: helps seal in juiciness.
Worcestershire sauce: one of the best umami flavours for beef.
Minced garlic: use fresh garlic for the best taste.
Italian seasoning: a go-to combination of outstanding herbs.
Salt & Pepper: Sea salt flakes and freshly ground pepper are a must.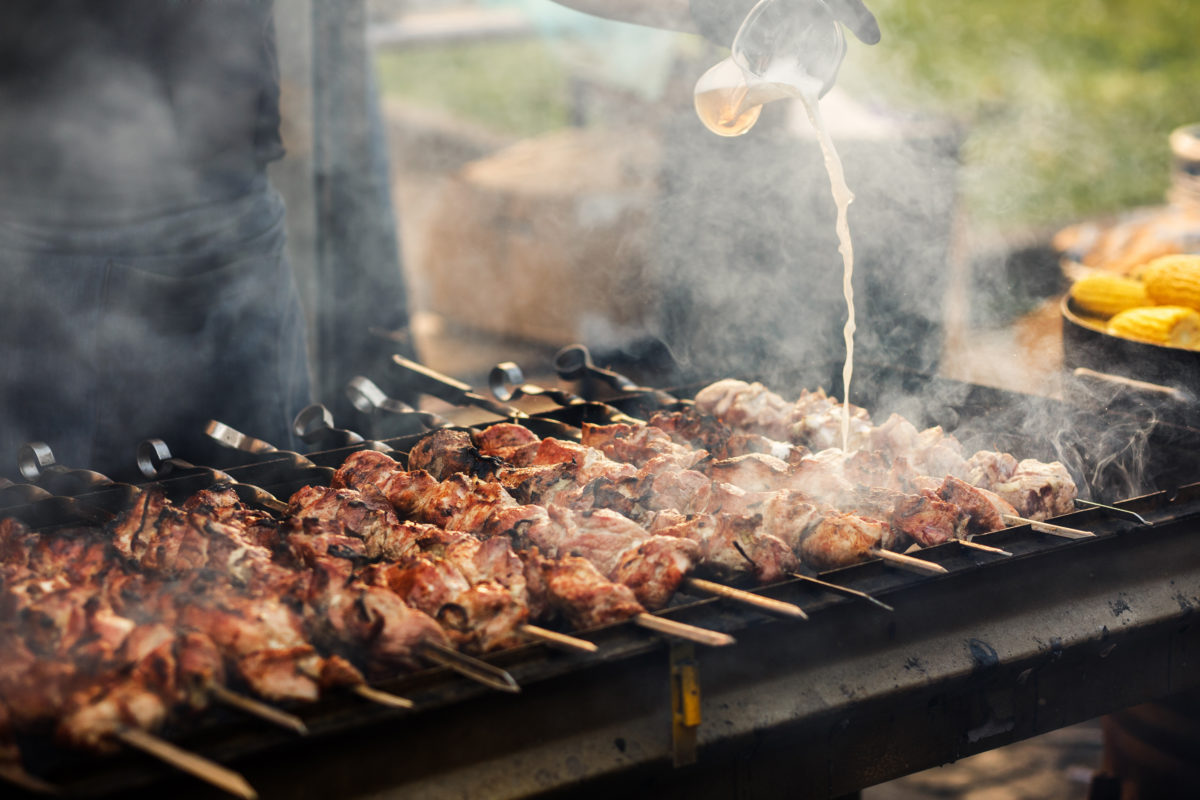 We all love hosting barbecues, but if you don't have the energy to organise one from scratch at the moment, and let's face it, the idea of shopping and preparing everything in these temperatures is not very appealing then why not try out our amazing value Barbecue Boxes. Prices start from only 30€ per person and you really can't go wrong with our options! They are all freshly prepared and ready for you to unpack, sling on the grill and serve. Each box serves six people with a generous portion.
You can pass it all off as your own if you like, we don't mind you taking the credit!
Classic Barbecue Box €180
Delicioso Homemade Beef Burger with Brioche Buns
Tandoori & Yoghurt Marinated Chicken Breast Kebabs
Boneless Pork Loin Steaks with a Cajun Rub
Salads
Mixed Leaf & Herb Salad
Traditional Coleslaw Salad
Pesto Pasta, Roasted Tomato & Pine Nuts
Premium Barbecue Box €240
Breast of Chicken Marinated in Lemongrass & Thai Spices
Boneless Leg of Mallorquin Lamb Marinated in Fresh Herbs
Chimichurri Dusted Tiger Prawn & Pepper Skewers
Salads
Caesar Salad, Herb Croutons & Parmesan Shavings
Roasted Pepper, Pasta, Courgette & Mushroom Salad
Summer Quinoa Tabbouleh with Fresh Herbs
Deluxe Barbecue Box €280
Galician Rib Eye Steak with Fresh Thyme
Chicken Kebabs Marinated in Cachaça, Chilli & Fresh Mint
Tuna Loin Steaks rubbed with Black Pepper & Olive Oil
Salads
Green Salad with Cucumber, Celery & Apple
Moroccan Roasted Vegetable & Couscous
Greek Salad, Peppers, Onion, Tomato, Feta & Kalamata Olives
And the veggies aren't left out either,
Vegetarian/Vegan Barbecue Box €200
Vegan Burger with Brioche Buns
Chickpea Falafel Patties
Cajun Spiced Vegetable & Tofu Skewers
Salads
Mixed Leaf & Herb Salad
Traditional Coleslaw Salad
Butternut Squash, Broccoli & Black Rice
You can see all of our options for villa delivery in Mallorca here www.deli-delicioso.com/home-villa-deliveries/home-catering